[PDF] Best CMOS Integrated Circuit Books For free download
  CMOS Integrated Circuit Books: Download For Electrical Engineering, Electronics, and Communication Engineering students and graduates, we've assembled a selection of the Best & Standard Reference Books on CMOS Integrated Circuits. Many students and alumni from renowned universities, institutes, and colleges use these books.
best books CMOS VLSI design, best books for CMOS CMOS book pdf, CMOS design book pdf, CMOS IC data book pdf download, CMOS image sensor book pdf, CMOS layout book pdf, CMOS process technology book, CMOS vlsi book pdf, CMOS VLSI design book pdf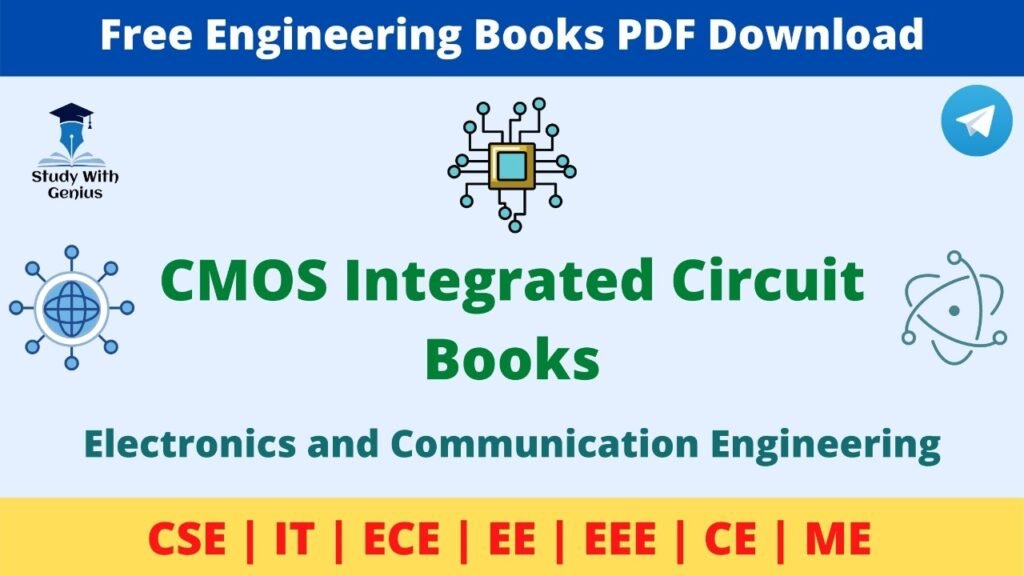 VLSI Methodologies: Introduction to VLSI design, Moore's Law, VLSI Design flow, Design hierarchy, VLSI
Design style: Full custom, Gate array, standard-cell, Macro cell based design, Field programmable devices, design quality.
MOSFET: Electrical characteristics of MOSFET, Threshold voltage, Body effect, current expression (gradual channel approximation method), Channel length modulation, MOSFET
Scaling: constant field and constant voltage scaling, Short-channel effects.
Unit process in VLSI and IC fabrication: Unit process in VLSI: Wafer preparation, Oxidation, Diffusion, Ion implantation, Deposition, Metallization, Etching and Lithography. nMOS fabrication, n-well and p-well process .
CMOS Logic Circuits: General CMOS logic structure, VTC of inverter, noise margin, Different types of inverter (resistive load, enhancement and depletion nMOS load and CMOS), Switching characteristic (propagation delay and parasitic capacitance estimation), NAND, NOR and other complex CMOS logic circuits, Sizing of CMOS logic circuits,
CMOS Power: static and dynamic power dissipation, latch-up, sizing for large capacitive load,. Dynamic CMOS logic circuits, charge leakage and charge sharing problem, dynamic gate cascading problem, Domino and NORA logic, Introduction of sequential CMOS logic circuits, Stick diagram. Layout and Layout
design rules.
| Book Name | Author's Name |
| --- | --- |
| CMOS Digital Integrated Circuits Analysis and Design | Sung-Mo Kang Yusuf Leblebici |
| CMOS Circuit Design, Layout, and Simulation | R. JACOB BAKER |
| PRINCIPLES OF CMOS VLSI DESIGN A Systems Perspective | Neil H. E. Weste Kamran Eshraghian |
| VLSI FABRICATION PRINCIPLES Silicon and Gallium Arsenide | SORAB K. GHANDHI |
| CMOS Analog Circuit Design | Phillip E. Allen Douglas R. Holberg |
| Digital Integrated Circuits A Design Perspective (2nd Ed) | Rabaey Jan M |
About Book:
CMOS Digital Integrated Circuits: Analysis and Design is the most complete book on the market for CMOS circuits. Appropriate for electrical engineering and computer science, this book starts with CMOS processing, and then covers MOS transistor models, basic CMOS gates, interconnect effects, dynamic circuits, memory circuits, BiCMOS circuits, I/O circuits, VLSI design methodologies, low-power design techniques, design for manufacturability and design for testability.
This book provides rigorous treatment of basic design concepts with detailed examples. It typically addresses both the computer-aided analysis issues and the design issues for most of the circuit examples. Numerous SPICE simulation results are also provided for illustration of basic concepts. Through rigorous analysis of CMOS circuits in this text, students will be able to learn the fundamentals of CMOS VLSI design, which is the driving force behind the development of advanced computer hardware.
About Book:
In this second edition, the authors have taken a new, two path approach to the topic. They develop design techniques for both long- and short-channel CMOS technologies and then compare the two. This approach results in explanations that are multi-dimensional and allows the reader deep insight into the design process. Complete with layout software for the PC, this exceptionally comprehensive presentation of CMOS integrated circuit design will guide you through the process of implementing a chip from the physical definition through the design and simulation of the finished chip.
About Book:
With this revision, Weste conveys an understanding of CMOS technology, circuit design, layout, and system design sufficient to the designer. The book deals with the technology down to the layout level of detail, thereby providing a bridge from a circuit to a form that may be fabricated. The early chapters provide a circuit view of the CMOS IC design, the middle chapters cover a sub-system view of CMOS VLSI, and the final section illustrates these techniques using a real-world case study.
About Book:
Fully updated with the latest technologies, this edition covers the fundamental principles underlying fabrication processes for semiconductor devices along with integrated circuits made from silicon and gallium arsenide. Stresses fabrication criteria for such circuits as CMOS, bipolar, MOS, FET, etc. These diverse technologies are introduced separately and then consolidated into complete circuits.
About Book :
Respected authors Phil Allen and Doug Holberg bring you the third edition of their popular textbook, CMOS Analog Circuit Design . Working from the forefront of CMOS technology, Phil and Doug have combined their expertise as engineers and academics to present a cutting-edge and effective overview of the principles and techniques for designing circuits. Their two main goals are:

to mix the academic and practical viewpoints in a treatment that is neither superficial nor overly detailed
to teach analog integrated circuit design with a hierarchically organized approach.

Most of the circuits, techniques, and principles presented in CMOS Analog Circuit Designcome directly from the authors' industrial experience, making the book a valuable resource for both practicing engineers and students taking courses in analog electronics or CMOS analog design.
About Book :
Progressive in content and form, this text successfully bridges the gap between the circuit perspective and system perspective of digital integrated circuit design. Beginning with solid discussions on the operation of electronic devices and in-depth analysis of the nucleus of digital design, the text maintains a consistent, logical flow of subject matter throughout.
The revision addresses today's most significant and compelling industry topics, including: the impact of interconnect, design for low power, issues in timing and clocking, design methodologies and the tremendous effect of design automation on the digital design perspective. The revision reflects the ongoing evolution in digital integrated circuit design, especially with respect to the impact of moving into the deep-submicron realm.
Features:
New – Updating of technology of the deep-submicron realm – The piece makes sure that updates to most of the numeric values ​​with respect to advancing processes can be accomplished easily.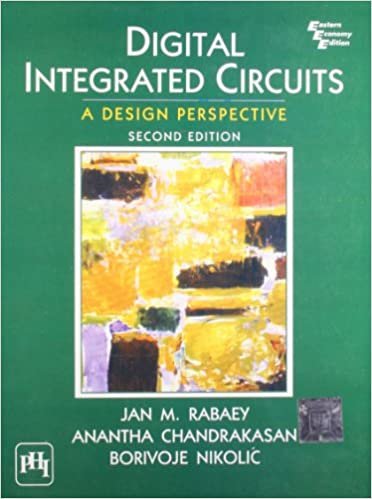 Note: This website is for for  students and graduates who want to get free engineering e-books, Competitive Study Notes, and other study tools. Our goal as a StudywithGenius Team is to assist students and others who cannot afford to buy books. If you find this study material/book is useful, please purchase it legally from the publisher and, if you feel so inclined, share it with others.
Disclaimer: Moreover StudywithGenius server does not store any type of book,guide, software, or images. No illegal copies are made or any copyright  © and / or copyright is damaged or infringed since all material is free on the internet. Check out our Privacy Policy.  If you feel that we have violated your copyrights, then please contact us immediately. We're sharing this with our audience ONLY for educational purpose and we highly encourage our visitors to purchase original licensed software/Books. If someone with copyrights wants us to remove this software/Book, please contact us. immediately.
You may Visit Our DMCA & Copyright Page