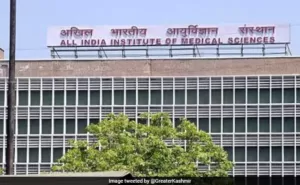 AIIMS MBBS 2021 – The most competitive MBBS entrance test, AIIMS 2021 will be held for admission to 1205 undergraduate medical seats offered by 15 AIIMS institutes. Every year, around 3 lakh candidates apply for this exam. With such fierce competition, candidates may find it difficult to pass AIIMS UG 2021 and secure an MBBS seat. As a result, if a candidate aspires to pass the entrance exam, their preparation method must be good enough to bring them to admission to one of the most prestigious medical institutes in the world, AIIMS.
***Admission to AIIMS for MBBS-2021 will be done through NEET 2021***
***NEET will be the only entrance exam for admissions into the AIIMS***
The All India Institute of Medical Sciences (AIIMS) in New Delhi has announced the test dates for 2021, which will be held online on May 30 and 31. It is critical for students to understand ideas and focus on the exam pattern and syllabus in order to prepare for the AIIMS MBBS 2021 exam. The NEET 2021 syllabus will be used for AIIMS 2021. Click here to learn more about NEET 2021. The NEET Exam is most likely to take place in September, with a new session beginning in October 2021.
AIIMS MBBS
All India Institute of Medical Sciences (AIIMS) is an acronym for All India Institute of Medical Sciences. AIIMS Delhi hosts AIIMS MBBS 2021 for applicants interested in studying medicine at one of India's 15 AIIMS. An Act of Parliament passed in 1956 established AIIMS Delhi under the control of the Indian government. AIIMS is a Nationally Important Autonomous Institute. The All India Institute of Medical Sciences (AIIMS) admission exam is a national level entrance exam.AIIMS is a national level entrance exam administered by the All India Institute of Medical Sciences (AIIMS) in New Delhi.
Students who enrol in the All India Institute of Medical Sciences' MBBS programme must commit to a minimum of five and a half years of study. Four and a half years will be devoted to academic study, with the remaining year devoted to a mandatory internship. Candidates who take the AIIMS MBBS 2021 exam will be able to enrol in one of the 15 AIIMS Institutes around the country for MBBS. In the fields of medical science and physical biology, these 15 institutes are regarded top priority colleges or tier 1 colleges.
The AIIMS Delhi, which is hosting the AIIMS MBBS 2021, has a reservation policy. The reservation policy states that,
7.5% seats are reserved for Scheduled Tribe (ST),
15% for Scheduled Caste (SC) and
27% for Other Backward Classes (OBC).
5% reserved for Person with Benchmark Disability (PWBD) as per the provision of Rights of Persons with Disabilities Act 2016 will be given.
Undergraduate and postgraduate education in the realm of physical-biological sciences is the responsibility of AIIMS 2021. They perform additional tasks in the areas of dental and nursing education, educational innovations, medical and associated research, primary, secondary, and tertiary healthcare, as well as community-based teaching and research.
The main goal of AIIMS MBBS in terms of postgraduate education is to improve training and research facilities for medical college professors in India. MBBS students at AIIMS are exposed to novel medical teaching approaches so that they can apply them in their future practises.
AIIMS MBBS
Examination Name

Entrance Exam
Examination Type
National Level
Negative Marking

1/3 marks will be deducted for every wrong answer
Examination Mode

Computer-based Test (Online Mode)
Examination Category
Under Graduate (UG)
Examination Language

English & Hindi
Conducting Body

All India Institute of Medical Sciences (AIIMS)
Sessions
Morning & Afternoon
Examination Time (tentative)
Morning Session: 9:00 AM to 12:30 PM
Afternoon Session: 3:00 PM to 6:30 PM
Seats Available
807
AIIMS MBBS 2021 Exam Dates
Candidates for AIIMS MBBS must be aware of the exam date as well as other relevant dates. The following are some crucial dates: The AIIMS MBBS admit card will be issued on July 15, 2021, and candidates can get it from the AIIMS website. On September 1, 2021, a list of candidates who would be qualified for online counselling for the MBBS degree will be released, and regular classes will begin on August 1, 2021, whilst AIIMS Delhi sessions will begin on July 16, 2021. 
Note:-AIIMS MBBS dates listed are provisional and may change once the official notice is released. As a result, pupils must await the official announcement from the exam authority.
AIIMS MBBS 2021 Eligibility
To be eligible to write the AIIMS MBBS test, candidates must have been born after January 2, 2003 (tentative). Students can get more about AIIMS MBBS Eligibility by reading the following.
Candidates must have studied English, Physics, Chemistry, and Biology and have passed the 12th under the Senior School Certificate Examination (CBSE) or Intermediate Science or an equivalent Exam of a recognised Board/University of any Indian State in order to meet eligibility criteria. Candidates seeking for AIIMS MBBS should score at least a B in English, Physics, Chemistry, and Biology and they are
60% for General and Other Backward Class (OBC) candidates
50% for Scheduled Caste (SC)/Sceduled Tribe (ST)/People with Benchmark Disability candidates
Candidates who use the grading system must use the conversion factor to determine their % eligibility. Their individual Boards of Examination will determine the conversion factor. Only the percentage score, not the grades, will be taken into account.
AIIMS MBBS 2021 Syllabus
In general, the AIIMS authorities does not release an official AIIMS MBBS Syllabus. AIIMS, on the other hand, assesses a candidate's knowledge and grasp of subjects from classes XI and XII. The AIIMS MBBS Syllabus is based on disciplines taught in 11th and 12th grades, such as physics, chemistry, and biology (Botany & Zoology).Along with Physics, Chemistry, and Biology, candidates must focus on the General Knowledge component. Each component of the AIIMS MBBS Exam comprises a total of 60 questions, with the exception of Aptitude & Logical Thinking and General Knowledge, which has only 10 questions. Some of the essential topics studied for the AIIMS MBBS Exam are listed here.To get into an AIIMS with good rank, it is highly advisable to go through with NEET Exam Pattern and Syllabus, also.
AIIMS MBBS Biology Syllabus:
Cell
Plantae
Ecology
Human Health Diseases
Mineral Nutrients 
Plant Water Relation
Origin of Life
Cell Division
Genetics
Cell Respiration
Photosynthesis
AIIMS MBBS Chemistry Syllabus:
General Organic Chemistry
Alkenes and Alkynes
Alkanes
Equilibrium
s-Block Elements
p-Block Elements
Chemical Thermodynamics
Transition Elements and Electrochemistry
Chemistry in Everyday Life
AIIMS MBBS Physics Syllabus:
Heat and Thermodynamics
Optic Rays
Wave Motion
Magnetic Effect of Current and Magnetism
Gravitation
Electrostatics
Laws of Motions
X-Rays
Modern Physics
Semiconductors
AIIMS MBBS General Knowledge Syllabus:
History and Geography
Business
Awards and Prizes
Books and Authors
Polity
Science
AIIMS MBBS Aptitude and Logical Thinking Syllabus:
Coding-Decoding
Venn Diagrams
Mirror Images
Blood Relations
Figure
Odd one out
AIIMS MBBS 2021 Registration
AIIMS makes an online application form available, which candidates can fill out and submit before June 15, 2021. From May 1, 2021, candidates can apply for AIIMS MBBS.
How to apply for AIIMS MBBS?
Steps to Online AIIMS MBBS Application Form are
1.Registration for AIIMS MBBS: Candidates must register as a new user, fill out the form, and submit it.
2.AIIMS MBBS Qualification and Address Details:Candidates must include their qualifications as well as their address.
3.Upload Documents: You will have to upload the required documents.
4.AIIMS MBBS Exam Centre:Candidates will have to choose the AIIMS MBBS Exam Centre of their preference and convenience.
5.AIIMS MBBS Payment Mode:Fees for the Application Form can be paid with a credit/debit card or using net banking.
6.Printout:Take a printout of your application form in A4 size sheets once it is done.
AIIMS MBBS 2021 Application Form
Candidates should be aware of various details of the AIIM MBBS Application Form and they are:
Candidates can apply for the AIIMS MBBS exam online. It is the candidate's obligation to fill out the Application Form with the right address, phone number, and email address. Candidates can pay their application fees using a credit/debit card or through Internet Banking. The registration for the year 2021 is done entirely online.Candidates will not be allowed to pay the AIIMS MBBS 2021 Application Fee through any other means except online. a scan of the most recent passport size For the 2021 Application form, the photograph, left-hand thumb impression, and signature all need to be in the same format of "Photograph.jpg" or "Photograph.jpeg."
Candidates are recommended to fill out the Application Form completely and accurately. When filling out the AIIMS MBBS 2021 Application Form, there should be no ambiguity. The following are examples of documents that candidates must upload during the online application process:
AIIMS Documents

| | | | | |
| --- | --- | --- | --- | --- |
| Document | Description | File Size (KB) | Dimensions (cm) | Format |
| Photograph | Candidates recent colour photograph against a white background. | 50 to 100 | 4.5 X 3.5 | jpg/jpeg/png/gif |
| Signature | Candidates have to sign with black/blue pen | 10 to 50 | 6 X 3 | jpg/jpeg/png/gif |
| Thumb Impression | Candidates have to upload a file of their left thumb impression | 10 to 50 | 4 X 3 | jpg/jpeg/png/gif |
Documents required for AIIMS MBBS Application 
Candidates should have the following documents and details ready while applying for AIIMS MBBS 2021.
Name of the Qualifying Exam and Status.
Name of the Board
12th standard roll number
Name of the State
Percentage of CGPA
Scores Secured in 10th Standard.
A recent photograph against a white background.
Left thumb impression
Signature
Permanent Address
Country
State
City
Pin Code
AIIMS MBBS 2021 Exam Pattern
It is important for candidates to know about the AIIMS MBBS Exam Pattern. The Paper consists of only one paper with 200 questions. The exam duration of AIIMS MBBS 2021 is 3 hours and 30 minutes (210 minutes).
Sections: AIIMS MBBS Exam consists of 4 sections. They are:

Physics
Chemistry
Biology (Botany and Zoology), and
General Knowledge & Aptitude.
Each component of the AIIMS MBBS Paper will feature 60 questions, with a total of 20 questions in the General Knowledge and Aptitude section. The majority of the questions in the General Knowledge portion will come from the news and government schemes. The AIIMS MBBS Exam 2021 will be held in two sessions.The first shift runs from 9:00 a.m. to 12:30 p.m. (tentative). The Morning Shift will be between 3:00 PM and 6:30 PM (tentative), whereas the Afternoon Shift will be between 3:00 PM and 6:30 PM (tentative). You will have the choice of selecting either English or Hindi as the paper language when filling out the AIIMS MBBS application form. It is recommended that you select the paper language that best suits your needs.
AIIMS MBBS 2021 Admit Card
The AIIMS MBBS 2021 hall ticket will be released on July 15, 2021. AIIMS MBBS Admit Card will be available on the official website of the All India Institute of Medical Sciences. To download the AIIMS MBBS Hall Ticket for the AIIMS MBBS 2021 examination, students must first log in with their application number and password.Candidates for AIIMS MBBS 2021 must bring their original photo ID evidence as well as the AIIMS MBBS 2021 Admit Card. Keep a hard copy and a soft copy of your admit card with you during the admissions process.